I created a section in this web site for the Hungarian People's
radios, in Hungarian language called "Néprádió" (People's
radio).
The hystory of the "People's Radio", as well as in Italy, in Germany and other countries, was especially lived in Hungary.
The first model of this radios was built in 1938 and it was commonly called "Horthy Néprádió" in relation to the leader Horthy Miklós.
In its shape and size, this small radio is very similar to the German DKE38 but it can receive only the medium waves. The bakelite case is more decorated than in the DKE and at the top, shows the Hungary's emblem.
This radio did not have the expected success and its production was limited.
The Horthy Néprádió was product in the following models :
Orion 011
Orion 011 U
Philips 22 V
Philips 22 U
Telefunken 140 V
Telefunken 141 V
Telefunken 140 U
Standard 2011
Standard 2010
In the year 1950 started production of a small and cheap kind of radios, called "Néprádió" (People's Radio). The size of the cabinet, in a very simple shape made, was similar for all the models. This radios hasn't the dial, the tuning is fixed and is operated by a rotating switch that lets you chose between only two national station: Kossuth and Petőfi. This Néprádió series includes different versions manufactured by several companies. Some of them have only two knobs, power switch/volume (in the right side), and tuning (in the left). Others have a third knob, which operates the fine-tune. In the most common version the cabinet is wood made, in other cases it is aluminum made. The sizes of the cabinets are common to all the models:
To the ''Néprádió'' project joined the Orion, Philips (RAVA), Telefunken and Siemens.
Models published in the "Hungarian radios" page:
Orion 115A
Orion 115B (d.c. power supply version)
Orion 115U
Orion 313 (aluminium case version)
Philips 313 (aluminium case version)
RAVA 313 (aluminium case version)
RAVA 313 (wood case version)
This Néprádió versions was successfully, but its functionality was very limited for the tuning system which could receive only two stations.
The radio mans, professionals or amateurs, in some cases modified the Néprádió tuning circuit, inserting a variable capacitor and sometimes a dial also. In these cases the Néprádió were changed, "enriched" and could receive more stations.
In Hungary I have found some of these modified radio. Personally I think that I have not to restore it, or try bring them into their original condition. I think it is better to leave them as have been found, as evidence of a lived history and as a work of people who have given their small contribution to improving the quality of life.
Here you can see the images of three of these modified radios:
Orion 115A modified with tuning dial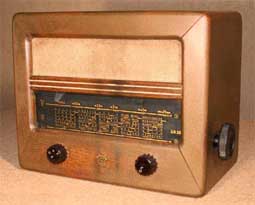 Orion 313 modified with tuning dial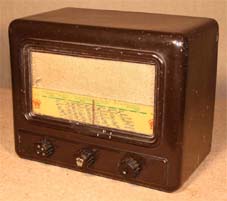 In 1948 started production of the Népszuper (people's super) series.
This kind of radios includes a wide range of models in many different shapes with different variations which, although having a low price, represent a more complete and functional version of Néprádió (People's Radio).
The Népszuper is relatively cheap but, compared to Néprádió, has the tuning dial and a continuous tuning system.
The most famous Népszuper is the model 309, it works only in medium waves and was produced from 1948 by Orion and Philips.
Subsequently, between 1950 and '60 years, was manufactured a lot of radios models commonly called Népszuper, although not all officially defined as such by the manufacturers; many of these models can receive two bands: medium waves and short waves.
Models published in "Hungarian radios" page:
Orion 309
Philips 309
Orion 130A
Orion 227A
Orion 228A
Orion 228A
Orion 323 (aluminium case )
Orion 228A Orion 228A