These unusual globe radios were made in Japan in the early '60s and were manufacured
in various versions.
Like many other Japanese products, at that time, they were sold under different names
such as: FLEETWOOD, VISTA, MARC, PEERLESS and others.
On the metal equatorial ring we can see the molded inscription "FLEETWOOD", or in
other cases: ALL TRANSISTOR, TRANSISTOR SIX VISTA, TRANSISTOR SIX PEERLESS, 8 TRANSISTOR AM/SW.
Moreover these radios were also used as gadgets and for this reason, at the base, there is a bas-relief niche which may include a label with the name of the firms such as: MARC, VISTA, RALEIGH, FOUR STAR, LUNA and many others.
The globe, 20 cm diameter, is made of transparent Plexiglas and is dismountable in two half spheres.
The images of seas and continents, in bas-relief and painted, are depicted in the inner part of the globe to avoid damages caused by contact with other objects.
The speaker is facing down and the sound comes out from the vents of the white grill
located in the south pole of the globe.
Basically there are five versions:
AM version (in medium waves) with sliding tuner control, on the side.
AM version (in medium waves) with knob tuner control, on the north pole.
AM version, in medium and short waves.
AM version, in medium and long waves.
FM and AM (medium waves) version.
MARC NTR-6G (MW)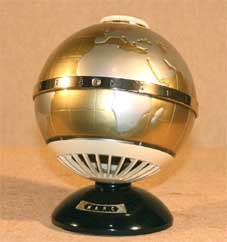 FLEETWOOD NTR-6G (MW)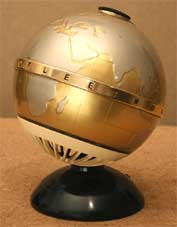 MARC NTR-8G (MW & CW)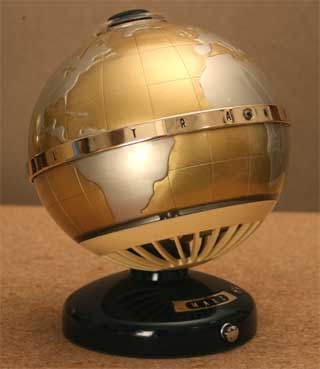 FOUR STAR NTR-8G (MW & CW)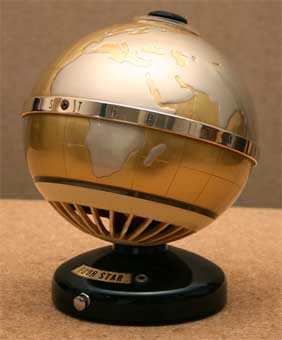 VISTA NTR-12GF (MW & FM)